Good Practices

from Zuyd University of Applied Science
Educating

students, teachers and professionals in Communities for Development (CfD)
At the Applied Science Academy of Zuyd University of Applied Sciences, MLT students work (for 10 or 20 weeks) together with teachers and professionals on relevant innovation projects where an assignment from the professional field is central. This means that it concerns a real assignment with a client (e.g. a medical diagnostic laboratory), which gives great importance to the results of the research. The assignment is accepted by the contractor, whereby the contractor is not one person, but consists of a team that will jointly realize the accepted assignment (figure 1).
Figure 1. 'Young & Experienced Professionals' in the laboratory and during a work meeting.
At the laboratory, the student receives support from an experienced professional. During work meetings, a coach takes care of the process, strategy, mutual relationships, and a motivating environment.
This team always consists of one or more students (young professionals), an experienced professional (who acts as a cooperating foreman, has an exemplary function and who mainly distinguishes himself from a starting professional in terms of experience) and a coach (usually a training teacher). We call this team a community for development (CfD) (figure 2).
The term development refers to the desired 'innovation development', as expressed in the assignment, and to 'personal development', i.e. to the learning of the student himself. Activities take place at the client's laboratory or at our Centre of Expertise; Chemelot Innovation and Learning Labs (CHILL). By using this set-up, both learning outcomes and research goals are achieved. This benefits the professionalization of Zuyd's students and teachers, but also, for example, the MLT laboratory for which the complex assignment is carried out.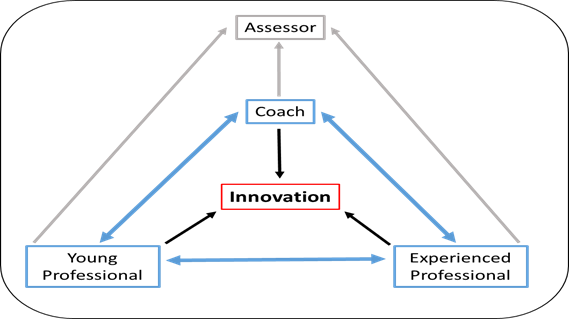 Figure 2. Schematic set-up of the CfD.
The 'Young Professionals', 'Experienced Professional' and 'Coach' work together in a community around an innovation assignment. They each have their own equal contribution and they help each other and the project forward. Together they provide input to an independent assessor who assesses the learning output of the student.
Other good practices at Zuyd:
Research projects across borders:
Students go abroad for a short or longer period, or they work together on a project with students coming from abroad. Besides general competences needed to work in a medical analytical laboratory, these exchange programs specifically work on the 5 domains of ICOMS (international competences): personal growth, intercultural competences, language skills, global engagement, and international disciplinary learning.
(contact: Olaf Brouwers olaf.brouwers@zuyd.nl and/or Laura de Bock laura.debock@ucll.be).
Peer feedback Lab Journal:
The proper use of a labjournal is essential for an MLT professional. To provide all students with the necessary knowledge and constructive feedback is however very time-consuming for an MLT teacher. For this reason, we developed a learning/feedback tool that allows students to provide highly informative peer-feedback between themselves. This creates a higher learning outcome for the student and less time-investment for the teacher. In this way you train MLT students in proper use of lab journal and experimental documentation. In addition, you train students in taking responsibility in quality management and providing constructive feedback to others. (contact: Marjolein Raijmakers, marjolein.raijmakers@zuyd.nl) link to document will follow.
The "(K)ILO school project":
This is a collection of laboratory-evaluating inter-laboratory tests ('Proficiency tests') for students at MBO and HBO. In the daily practice of modern laboratories, such inter-laboratory tests (ILOs) play an important role in quality assurance and -improvement of analysis results Participation, followed by – if necessary – corrective measures, leads to an increase in the mutual comparability of analysis results and thus promotes the mutual acceptance of those results Nationally and internationally, participation in this type of third-line control is therefore strongly recommended and is sometimes made compulsory. By this you train MLT students in reliable sample measurement, quality assurance and data presentation.
(website KILO project: www.stichtingkilo.nl).